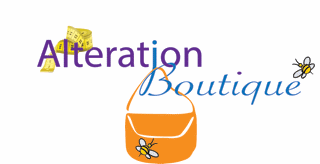 Serving Northern Colorado & Wyoming for over 25 years!
404 West Myrtle Street
Ft. Collins, CO 80521
Tel. 970-484-4109

Walk-in Hours:
Monday - Friday 11-5
Weekends CLOSED
Other times by appointment only
What's New At The Alteration Boutique:

Alteration Boutique is proud to present -
Busy Bee's Boutique ...your one stop shop for personalized, embroidered gifts for all occasions on any budget.
You can find our unique creations at the shop or at local artisan fairs. Stay tuned for upcoming fairs.
It is the policy of the Alteration Boutique to close for inclement weather
when Poudre School District is closed for inclement weather.
Saving Everyone's Wardrobe, one stitch at a time.

Alteration Boutique
404 West Myrtle Street
Ft. Collins, CO 80521
Tel. 970-484-4109